Collagen w/ Hyaluronic Acid
---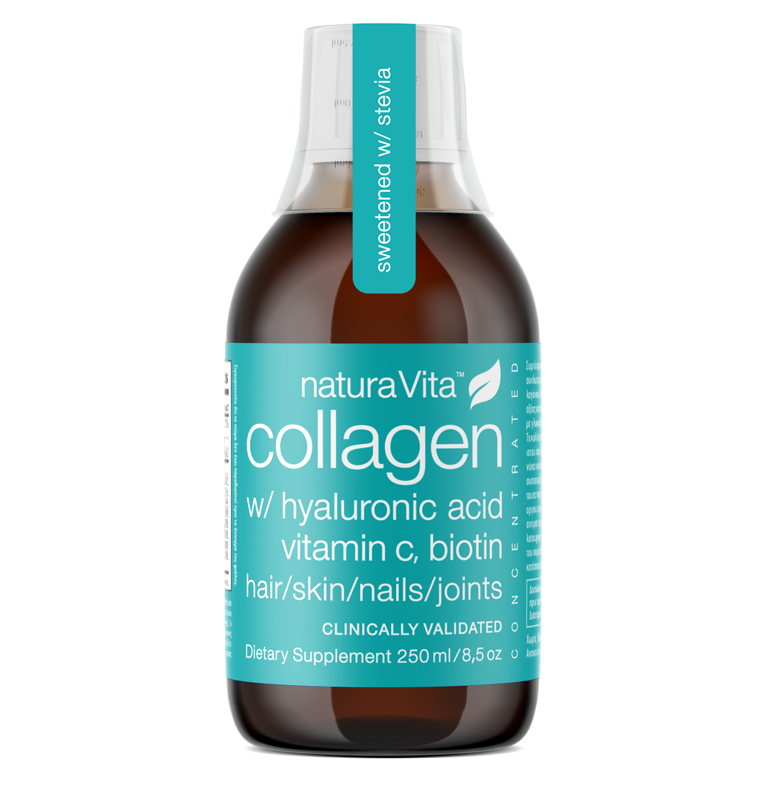 Description: 250 ml (8,5 fl oz)
Collagen is a group of fibrous proteins located in bones, tendons, and skin, also constitutes one of the main structural skin ingredients at the rate of 75%. Moreover, collagen makes up 30% of the whole-body protein content.
From the age of 25 onwards, the level of collagen in your body starts to diminish naturally at the approximate rate of 1,5% per year. During the aging process, women tend to lose collagen at a far quicker pace compared to men.
Since collagen intake is difficult to come about merely utilizing food, we must use dietary supplements.
Natura Vita Collagen w/ Hyaluronic Acid is a unique beauty formulation in which nutrients are integrated to provide our body with everything that is regarded as essential to sustain good health of joints, hair, skin, and nails.
Briefly:
Combines hydrolyzed collagen peptides (type 1 & 2), hyaluronic acid, vitamins, and trace minerals.
Contains clinically tested collagen FORTIGEL™
Enhanced with steviol glycosides (SGs).
Flavoured with mango aroma (liquid and powder).
Contributes to the maintenance of normal hair, skin, and nails.
Promotes joint health.
Scientific evidence-based.
Ε.Ο.Φ. (National Organisation for Medicines) Notification No: 22882 – 31.03.15